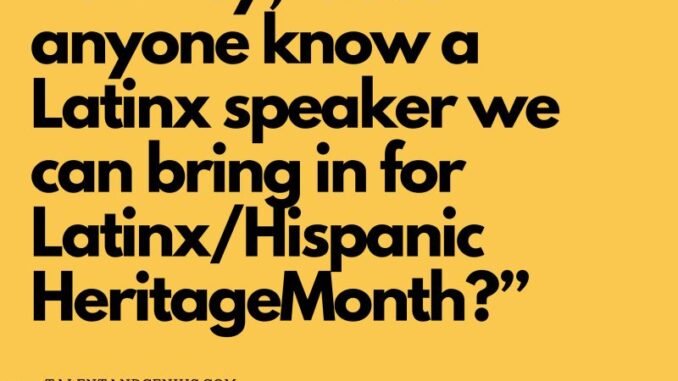 My dear Comadre Nancy Marmolejo said it best… please connect with her on LinkedIn, Instagram or check out her LinkTree as well as her website TalentandGenius.com – ❤️
Tis the season when #latinoheritagemonth#hispanicheritagemonth is a heartbeat away and ERGs are scrambling for speakers! (Best idea is to start earlier in the year, not on the brink of September!)
I just shared some insights with a new contact who was charged with finding a speaker and thought I'd share the tips here in case anyone else is in a similar situation.
➡ ➡ ERG Speaker Checklist:
The speaker needs to know:
1- Who is the audience?
2- How many in audience?
3- In person or virtual?
4- How will you compensate the speaker? (be honest and find at least an honorarium if you say you have no budget)
5- What tech is needed?
6- Are you planning on recording it? (not every speaker is OK with that considering it's their IP)
7- Who will sign any agreements and contracts? Who's the point person?
8- Is a rehearsal needed?
What you need from speakers:
1- Talk title and description
2- 5-7 bullet points of key takeaways (use for your marketing)
3- JPG headshot
4- signed agreement (theirs and/or yours)
5- slide deck (if needed)
6- Speaker's website
7- Speaker's social handles
8- Short speaker bio (75 words approx)
9- Optional: links to previous talks, references, recommendations, etc. so you can check them out
Those are the basics to get the ball rolling. More things might apply depending on the event, venue, audience, etc.
PS- ponder the irony of asking someone to speak for free during a month that is supposedly honoring their identity. Many ERGs have limited budgets, but have some way to compensate (when no money is available to pay, it can be through referrals, introductions, perks, etc).
#PayYourSpeakers
Buena suerte!