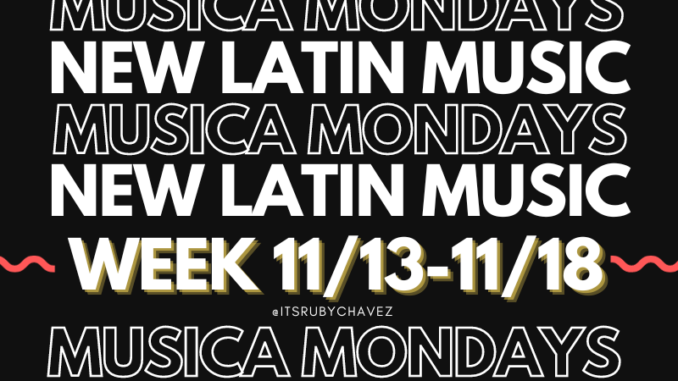 10 NEW LATIN SONGS OF THE WEEK
Happy Música Mondays,

Sorry for the late post, got carried away with the day, and I am feeling lost can't believe next week is already Turkey Day. What day is it again?
For this week: November 13th-18th, we have a Regional Mexican and Reggaeton in the lead this week! For this week, we have new music from El Fantasma, Rauw Alejandro, Maldy, Majo Aguilar, El Alfa, Arcangel, and more!
Check out this week's new LATIN SONGS OF THE WEEK.
Let me know what new song you added to your playlist
---
1.El Exitoso-El Fantasma
2.DILUVIO-Rauw Alejandro
3. 2NDO CHANCE-Becky G, Ivan Cornejo
4.Chichi Pana-Maldy, Ryan Castro
5.Se Solicita-Majo Aguilar
6.De Fresa y Coco-Luis R Conriquez, Dareyes De La Sierra, Edgardo Nuñez
7.Cuéntame-ERRE, Estevie
8. AQUI TA SMOKE-El Alfa "El Jefe" X Pop Smoke X Junior H
9.CANTO A LA VIDA-Fonseca
10.Plutón-Arcángel
---
Music News
Blue Beetle will start streaming this week, starting on Nov. 17th it will be on Max. You definitely want to check it out as it has a great Soundtrack!
RBD has collaborated with Mattel, Barbie to release a limited amount of RBD dolls ranging from Anahi, Maite Perroni, Dulce Maria, Christan, and Christopher.
Upcoming Tour Dates
Melanie Martinez's The Trilogy Tour
When We Were Young Music Festival Line up has been released

Featuring My Chemical Romance & Fall Out Boy has headliners

October 19, 2024 Las Vegas
Links to all my playlists including Spotify & Apple Music
XO,