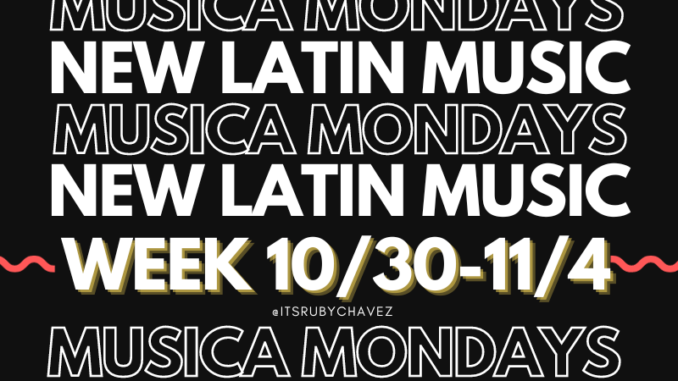 10 NEW LATIN SONGS OF THE WEEK
Happy Música Mondays,

For this week: October 31st-November 4th, we have a lot of treats this week! In the spirit of Halloween, we have many collaborations like Arcángel & Peso Pluma, GALE, Bruses, Camilo, Diljit Dosanjh, and music from other artists like LA JOAQUI, Los Tigres del Norte and mucho mas!
Check out this week's new LATIN SONGS OF THE WEEK. 
Let me know what new song you added to your playlist.
---
1.LA CHAMBA-Arcángel, Peso Pluma
2.Movie-GALE, Bruses
3.She is wow-Los Tigres Del Norte
4.Palpita-Camilo, Diljit Dosanjh
5.Rapido Soy-Clave Especial
6.El Yate (Salsa Version)-Lenny Tavárez, Sergio George
7.EXCESOS-Fuerza Regida
8.Anochecemos-LA JOAQUI
9.Modo DND-Xavi, Tony Aguirre
10.Discoteca ft. Nez-Ape Drums & Dev
---
Music News
Taylor Swift's 1989 Version has been released.
Natalia Lafourcade wins as Artist of the Year at the Rolling Stone Awards
Upcoming Tour Dates
BesameMucho Festival hits Austin, Texas March 2nd, 2024

This mega 1 day Latin Music Festival includes 4 stages from The Clasicas, Banda, Rockero, Te Gusta El Pop Stages.

Artists include Grupo Frontera, Banda MS, Caifanes, Juanes, Belanova, Reik & more!

Summer of 99' Tour featuring bands like Creed, 3 Doors Down, Daughtry, Switchfoot, Tonic, Big Wreck, Finger Eleven, and more!
Links to all my playlists including Spotify & Apple Music
XO,