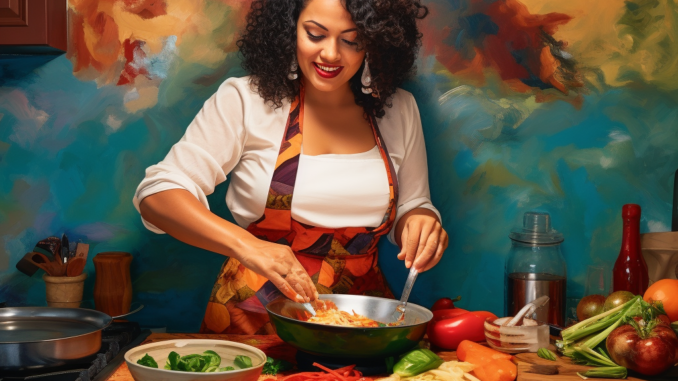 As many of you know, the original incarnation of http://www.sofritoforyoursoul.com was a pioneer in the online space having been the first website telling our stories in "blog" format waaaaay before the first social networks were established. That said… most people who happened to find us on some of the early search engines (netscape and ask jeeves) were people looking to buy sofrito. It took me a while in 1997 to post our first sofrito recipe, so I wanted to make sure that I did not make the same mistake the second time around.
I met Omi recently at a meet in greet in the Bronx as she toured NYC to promote her stellar participation in Next Level Chef… and she is exactly what you expect her to be. A colorful talented Boricua making her mark in the space. I am looking forward to seeing (and learning) more.
Also… the cover art for the post is an original digital painting created by me and inspired by Omi
Watch the video, make the sofrito… and teach a friend or a family member to do so as well.
Buen Provecho…
George Torres
Meet Omi Hopper. Once a sought-after makeup artist, now a global sensation in the culinary world, thanks to TikTok. As the world came to a standstill with the pandemic, Omi, armed with her camera, dove into her kitchen. And it wasn't just about rustling up meals for her husband and four hungry sons. For Omi, cooking was a voyage back to her childhood summers at her grandparents' farm in Puerto Rico.
Born amidst the scenic beauty of Rio Grande, Puerto Rico, Omi relocated to Providence, Rhode Island when she was a mere 11-year-old. The rich aromas and flavors of her native land lingered in her memories, urging her to keep those traditions alive. Not just for herself, but for her children too. During the lockdowns, she found solace in cooking, preserving her Puerto Rican traditions one dish at a time.
Her delectable recipes – the sizzling chuletas fritas, the comforting arroz con habichuelas, and the delightful croquetas de mangú – aren't just meals. They are memories, stories, and love passed down through generations. As her videos took TikTok by storm, with tens of thousands drinking in her culinary prowess, Omi realized she was doing more than just cooking. She was touching souls, reconnecting people to their roots, and rekindling memories of loved ones.
Today, Omi's journey, "Cooking Con Omi," is more than a brand. It's a movement. One that's ensuring that the tastes, sounds, and warmth of Puerto Rican kitchens are passed on, generation to generation.
Join her platdform as she serves not just recipes, but heartwarming tales perfect for every festive occasion.
Connect with Omi on her Blog, Instagram, Tik Tok and You Tube…
Tell her that Urban Jibaro sent you!